Principal Woe
When my eldest daughter began her elementary school education, we lived in Venice, CA. Now Venice is pretty chill, as far as most neighborhood communities go. It takes a lot to stir up the locals. Losing our school principal did just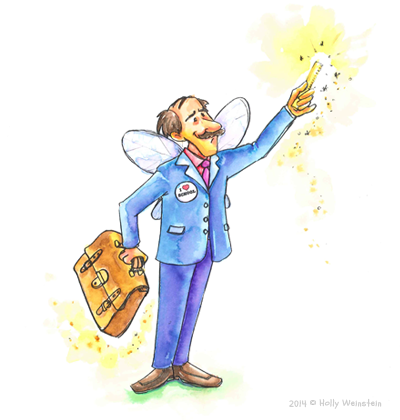 that. He had been at our local, public elementary school for years and was beloved, not for being warm and fuzzy, but for getting some serious funding to this much-deprived institution. And POOF, just like that, our Fairy Godfather, vanished. He took a position downtown at an arts-centric school that was too good to pass up. It was my first experience with "the one that got away".
Several years later, after giving birth to a second child, we moved a mere 13 minutes away from our beloved Venice to a more "small town" community up above the beach cliffs. Word had it that the public schools (and private) were top notch, from elementary to high school.
My eldest daughter began second grade in this new school. The principal could not have been nicer. He sat down with us, showed us around the school and answered all our questions. The next year, he was gone. Another good one, snatched away.
My daughter just graduated our wonderful elementary school and despite an interim principal who was not very popular, due to the outstanding caliber of the teachers and the tireless commitment by the parent volunteers, the school ran for three years like the Lakers under Phil Jackson. Now the interim principal is out and a new one is about to begin his tenure. The Middle School where my daughter will be attending in the Fall, also has a new principal. Which begs the question:
What is up with this Principal shell game? Now you see it, now you don't.
I always envisioned the role of principal to be like the role of Narrator in "Our Town". A constant. Boy, was I wrong. Principals are as expendable as a utility infielder or a long-suffering wife. Many get traded in a kind of Turnaround, much like a Hollywood script.
Apparently, according to Education Week, 20 percent of principals new to a school, leave that post within two years. A New Leaders Training study reports that new principal's tend to leave a school if school test results dip their first year. Often there is an exodus of teachers and parents. And when again new principals are hired, the school continues to underperform. The idea, of course, is to try to hold on to that new principal, barring criminal behavior or utter chaos. Apparently, it usually takes 3 years for a principal to get their groove on. So, perhaps, patience is key when finding a new principal as is the initial vetting process. This principal turnover does not bode well for the health of our schools.